News Link: CBSE Teachers – GEMS Hiring. By Job Cell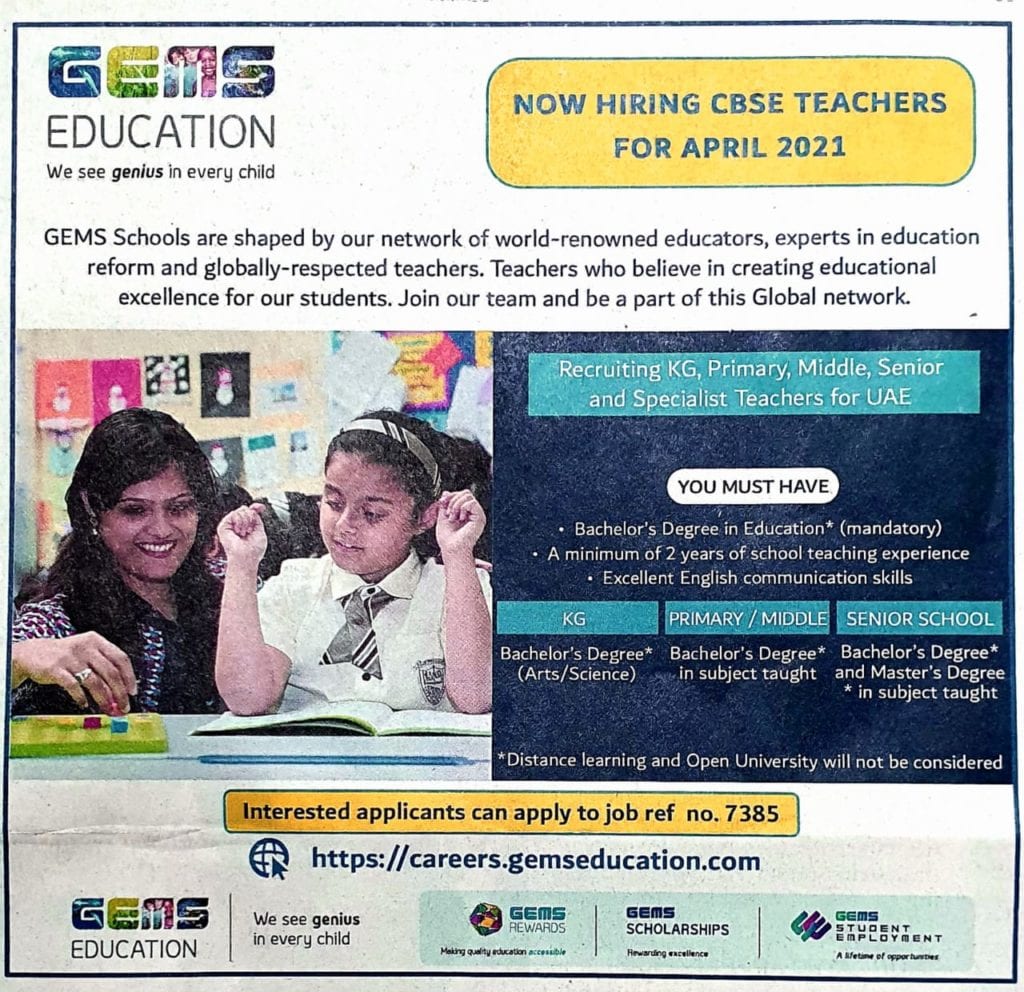 For More Related Job Offers Click Here.
In order to practise a teaching profession in the UAE, the applicant must have a minimum qualification of a bachelor's degree or a 4-year university degree or higher in the required field. This rule applies for public/government schools as well as private schools in the UAE. Other conditions include: A criminal clearance record, a medical fitness report from the UAE, original of educational certificates. Attested certificates in case the educator has graduated from a university outside the UAE; the certificate must be attested by Ministry of Foreign Affairs and International Cooperation and the country's embassy in the UAE. If you want to apply for a teaching position at one of UAE government schools, you have to do this through the Ministry of Education's job portal. If you want to apply to a private school, you have to approach the school administration itself. The school will then forward the necessary papers to Ministry of Education in the northern emirates or to KHDA in Dubai for tests required and final approval. Department of Education and Knowledge in Abu Dhabi has dedicated public service centres in its educational offices to receive teachers' applications and process appointments through schools registered in Abu Dhabi.
In 2017, the UAE introduced the pilot phase of the UAE Teachers' Licensing System (TLS). TLS teaching licence will become a requirement for education professionals in the UAE by the end of 2020. All principals, vice-principals, managers and teachers working across all public and private schools in the UAE will have to hold a UAE teacher's licence to work legally in the UAE. The system is co-developed by National Qualifications Authority (NQA), Ministry of Education (MoE), Knowledge and Human Development Authority (KHDA) , Department of Education and Knowledge (ADEK) and Abu Dhabi Centre for Technical and Vocational Education Training (ACTVET). The licence is obtained by passing two tests, one in pedagogy and the other in the specialisation of the applicant teacher. In case the applicant fails to meet the exam criteria, the system then introduces training courses that are customised based on the level shown in the exam to achieve the required outcome. Teachers will be given the opportunity to redo any failed assessment during a 24-months period.