News Link: FARNEK Jobs – Required Security Guards & CCTV Operators.
A rewarding career in facilities management awaits experienced professionals and graduates alike!
Take your first step towards becoming a team member of one of the most successful FM Companies in the UAE.
Apply today for the job vacancy below that best matches your experience or indeed your aspirations.
Attach your CV, and a recruitment specialist from our human resources department will contact you shortly.
For recruitment related enquiry please contact recruitment@farnek.com
| | |
| --- | --- |
| VACANCIES | LOCATION |
| 1. Security Guards | Abu Dhabi / Northern Emirates |
| 2. CCTV Operators | Dubai |
Qualification & Experience:
1.Security Guard: 2 years minimum experience as Security Guard
(PSBD license holders only)
2.CCTV Operator: 2 years minimum experience as CCTV Operator
(CCTV Operator Certificate from SIRA with attested school certificate)
Important: Please take the following documents with you for the interview
" CV, Passport copy, Passport size photographs(white background), payslip and copy of Education certificates "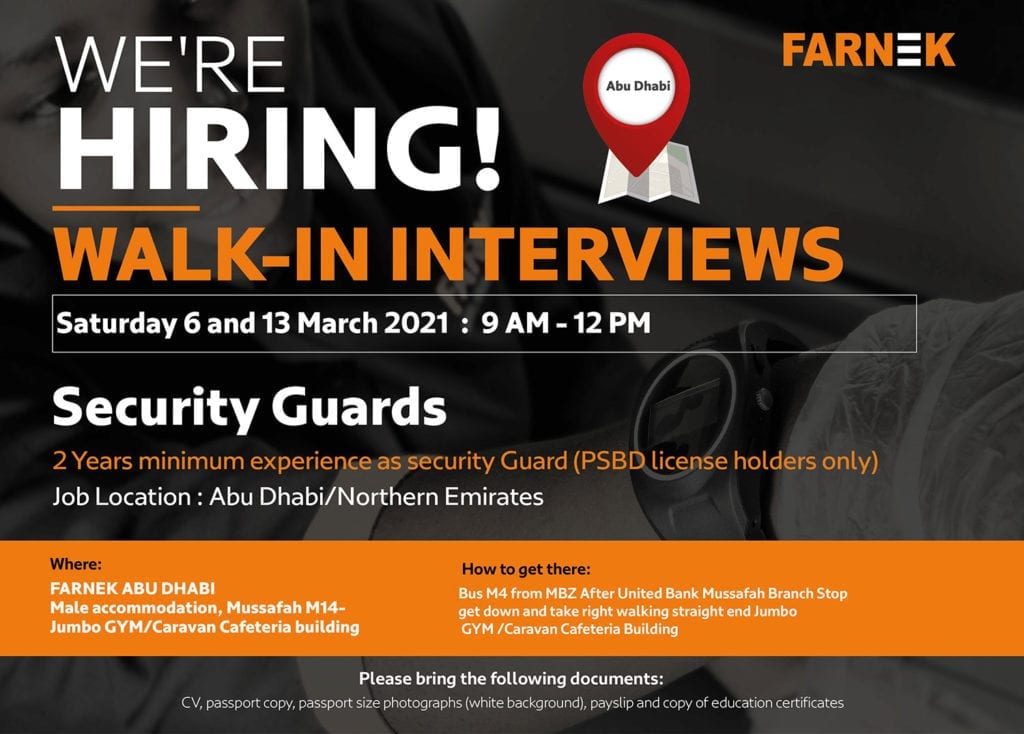 Also To Find More Related Jobs Click Here.
For More Security Guard Jobs Click Here.
About the United Arab Emirates Job Market
Nearly 82 percent of total jobs registered in the UAE are from the private sector. It is comparatively easier to get a private job in the United Arab Emirates than a Public Sector or government sector. The private sector job market is also very much competitive at the same time. If you are eligible to get a job, then only you have a chance.FARNEK Jobs
In case of any job acquisition through an unconventional mode of recruitment, the chances of losing it also very high. The Labour Law of the country is clearly defined. Both employer and employee don't get a chance to play on 'grey area' when a dispute arises.FARNEK Jobs
The maximum job opportunities are in the fields of Medical and Health care sector. Tourism professions, Hospitality jobs, Up to some extend the Administration jobs and Human Resources segment also has sizeable job opportunities.
The new trend due to online purchase increase is requirement of delivery personalities. This includes both four-wheel drivers – that is Light Vehicle and Truck Drivers and maximum of Motor Bike drivers.
The chances of not getting a job with a motor bike license is zero in the year 2020. Most of the courier and food delivery companies are having shortage of 'delivery boys'.
Similarly, technically sound professionals are also getting jobs in the Oil Field sector and off shore jobs.
Highly educated people such as Scientists, Doctors, Engineers and Higher management staff are always having a position vacant in the broad business world of the United Arab Emirates. Keep your knowledge updated.
Finally, to Conclude, Prepare properly. Know the subject well. You have always a chance in the Emirates.