News Link: First Hyperloop Travel with Passengers
Las Vegas had witnessed the test run of Hyperloop with Human Beings inside it. The new transport method was under trial for many years. The Vehicle is called Hyperloop Pod. The test was done at Navada Base of Virgin Hyperloop.
The test run carried out at a small distance of 500 meters with two passengers in it – One Male and One female. Virgin's Josh Giegel who is Co-Founder and Chief Technology Officer and Sara Luchian – Director of Passenger Service were the first passengers. The total time took was less than 15 seconds. Earlier, more than 400 test runs were made by the Pod prior to this 'human test'.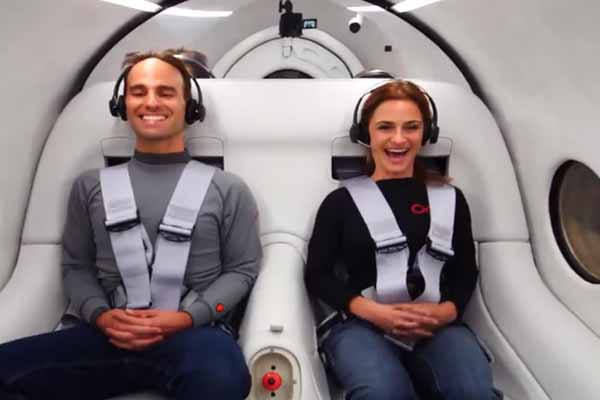 Both expressed happiness of becoming part of history by travelling first Hyper Loop Vehicle.
The test run made in a custom Pod for two passengers. The name of the Pod is XP-2. The actual size Pod will be of a capacity of carrying 28 passengers. The top speed it can reach is upto 1080 kmph.
The hyperloop did its first passenger test after many number of tougher testing processes. It has a superior, state of the art control systems. It is the best example of putting Artificial Intelligence (AI) into practice. Passenger Luchian expressed her feeling after travel as "physically and psychologically exhilarated".
In the group of Virgin Hyperloop, Dubai's DP World is a major share holder. Hyperloop will be in commercial operation after Hyperloop Certification Centre's approval after required advancements.
What is Hyperloop?
This is a new idea or mode of travel system. The name of passenger cabin or compartment is 'Pod'. Look-wise it is an electrical train and it runs on a track. Unlike open track of conventional trains, Hyperloop runs in a tube (mostly steel tube) that is in vacuum stage. Vacuum enables the Pod to move without friction of any kind. The speed it can attain is more than an aircraft, but its energy consumption is minimal. It can use for both Transportation of People and Materials. Future of transportation is this now – experts say.
Compiled by – Newsdunes Copy Desk Team.
Read More news at Technology Segment
News Link: First Hyperloop Travel with Passengers