News Link: India Dubai Flight Protocols Eases From 23 June 2021 – ND News Desk
In a significant notification, Supreme Committee of Crisis and Disaster Management eased travel protocol from India to Dubai.
The news was tweeted by Dubai media office account this afternoon.
The inbound – that is India To Dubai passengers were left with no option to land in UAE till July 6th as per the previous notification. The entry ban due to worsening Covid situation in India affected normal passengers who are not diplomats or UAE Golden Visa holders badly.
The news fell music to many ears even though there are strict regulations to come in. The entry is based on the following conditions:
1) Resident Visa Holders should have taken both doses of Covid Vaccine approved by UAE Authorities
2) They should hold a negative P C R Test report taken within 48 hours of the boarding time. In This, UAE Citizens are exempted. They do not need PCR Certificate.
3) The above P C R test report should have a Q R Code – that is machine readable.
4) Passengers should also take a Rapid P C R test 4 hours before flight departure time.
5) All those who arrive at Dubai Airport should also take a P C R test at airport after landing.
6) Passenger should undergo institutional quarantine till they receive P C R Test result taken at Dubai Airport. This will take maximum of 24 hours. Diplomats and UAE Citizens are exempted from this clause.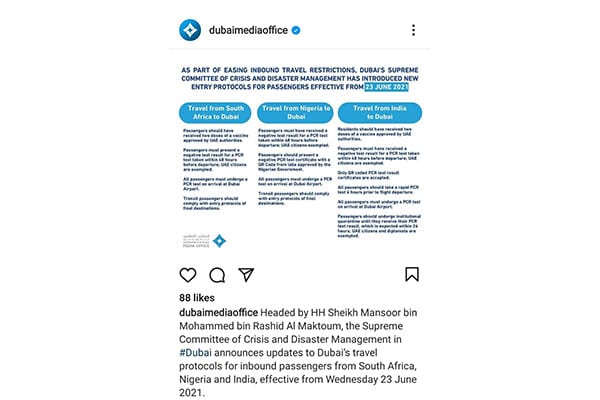 Other than India, travel restrictions from South Africa, Nigeria are also relaxed.
Even though the relaxation is implemented, it is not yet clear when will the normal air transport will resume. The options now left is flights under air bubble agreement to Dubai and Chartered flights.
Read More news at Gulf Segment