News Link: Khaleej Times Jobs – Date: 09.06.2021
Here are the job vacancies listed in the Khaleej Times Newspaper dated 09/06/2021
1.A Leading Restaurant Looking For Staffs
Waiter / Waitress
Accounting Assistant
Cashier
Location: Sharjah and Ajman
Salary plus accommodation and transportation provided
Interested candidates drop your CV, to WhatsApp no: 054-9989682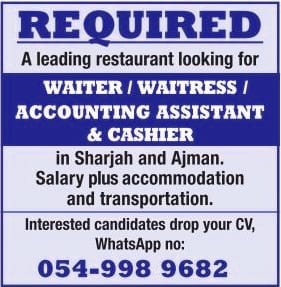 2.Software Company Requirement
We are a software company dealing with Asset Management / Maintenance / Inventory / Purchasing Solutions. We also build software for custom requirements.
We are looking for
Freelance Sales Marketing Consultants
Who can work on commission basis.
If you are interested, please send your details/CV to : admin.contact@accordant.ae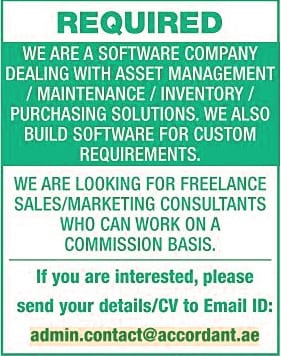 3. Valet Parking Driver Required
Valet parking driver required for BURAQ AL MADEENA Facility Management Services LLC.
Salary 3000 AED
Accommodation and Transport Provided
Interested candidates send your CV to
WhatsApp – 054 5315700
Contact – 04546334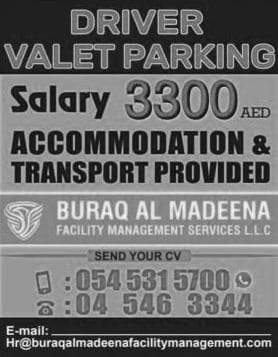 4. Accountant Required Urgently
Accountant Preferable with knowledge of Banking Transactions
Location: Dubai Airport Free Zone ( DAFZA )
Contact Details:
Tel – 04 2146514
Mob – +971 504089574
Email – info@pharmatechfzco.com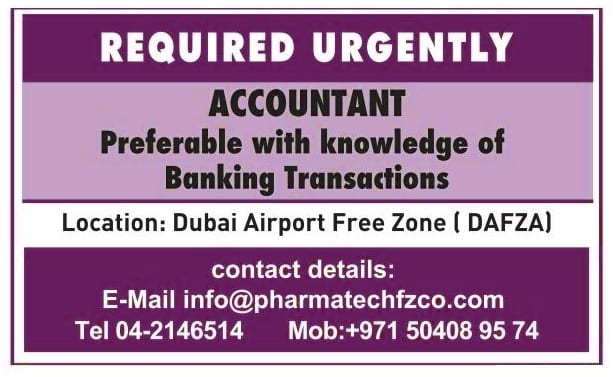 5. Transport Company Required Staffs
Required below candidates foe a transport company
Safety officer cum supervisors
Sales representatives
Supervisor for mobile crane and heavy vehicles
Interested candidates send CV to: info@alrashid-group.com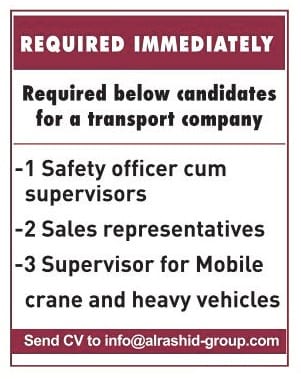 Also To Find More Jobs Click Here.
Khaleej Times Jobs About the United Arab Emirates Job Market
Nearly 82 percent of total jobs registered in the UAE are from the private sector. It is comparatively easier to get a private job in the United Arab Emirates than a Public Sector or government sector. The private sector job market is also very much competitive at the same time. If you are eligible to get a job, then only you have a chance. Khaleej Times Jobs
In case of any job acquisition through an unconventional mode of recruitment, the chances of losing it also very high. The Labour Law of the country is clearly defined. Both employer and employee don't get a chance to play on 'grey area' when a dispute arises. Khaleej Times Jobs
The maximum job opportunities are in the fields of Medical and Health care sector. Tourism professions, Hospitality jobs, Up to some extend the Administration jobs and Human Resources segment also has sizeable job opportunities.
The new trend due to online purchase increase is requirement of delivery personalities. This includes both four-wheel drivers – that is Light Vehicle and Truck Drivers and maximum of Motor Bike drivers.
The chances of not getting a job with a motor bike license is zero in the year 2020. Most of the courier and food delivery companies are having shortage of 'delivery boys'.
Similarly, technically sound professionals are also getting jobs in the Oil Field sector and off shore jobs.
Highly educated people such as Scientists, Doctors, Engineers and Higher management staff are always having a position vacant in the broad business world of the United Arab Emirates. Keep your knowledge updated.
Finally, to Conclude, Prepare properly. Know the subject well. You have always a chance in the Emirates.